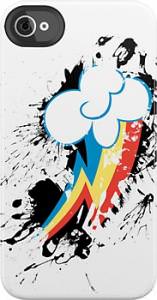 Protect your precious iPhone and iPod with the cooliest pony in air.
Have a close look at this case you will see the cutie mark of the popular My Little Pony rainbow Dash, a lightning bolt rainbow shooting out from a cloud. The really cool part of this design is it looks like a splatter spot giving it a unique appearence.
There are 4 differnet cases to choose from:
iphone 4 / 4S deflector
iPhone 4 / 4S capsule
iPhone 3G / 3GS capsule
iPod Touch 4G capsule
The deflector cases are a durable one piece snap on case that leaves all ports and buttons open for use.
The capsule cases are a two piece slide on case that also leave al ports and buttons open.
Check out the My Little Pony Rainbow Dash Splatter Cutie Mark iPhone And iPod Touch Case.