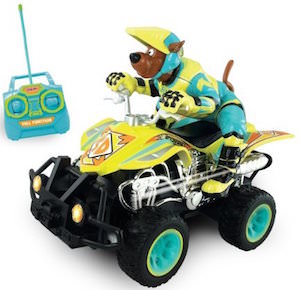 Kids love Scooby-Doo and remote controlled vehicles and that is why this toy is perfect for kids.
This is a remote controlled ATV with Scooby-Doo on the wheel.
Just put in the batteries and you can start controlling where Scooby is gone ride to on his ATV. The ATV that Scooby is on is a light green with the Scooby-Doo logo on the front and then there is Scooby the fun dog is wearing a racing suit and helmet because he knows that being safe is better then being sorry.
Kids are gone love driving Scooby around and it is easy enough for kids to get this vehicle going.
Time to make the kids happy with this Scooby-Doo Remote Controlled ATV.