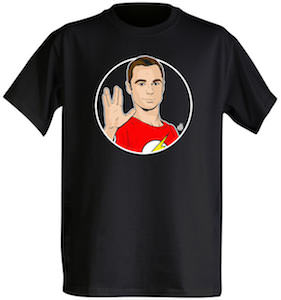 This black t-shirt shows a round window in the life of Sheldon Cooper from the Big Bang Theory.
As you can see Sheldon is making the Vulcan Salute that he normally makes while saying "Live Long And Prosper" like a real Star Trek fan.
And now you can have a t-shirt that can relate to both the Big Bang Theory and Star Trek.
And this Sheldon Cooper t-shirt comes in a wide selection of sizes from Small – XXXL and the t-shirt is made from 100% cotton to.
Lets get some Sheldon in your life by simply wearing this The Big Bang Theory Sheldon Live Long And Prosper T-Shirt.