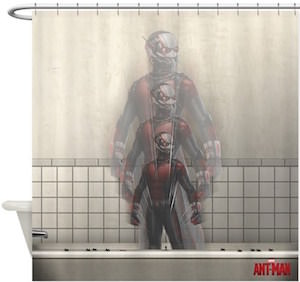 Now you bathroom can look super cool with this Ant-Man shower curtain.
Made from 100% softened polyester this 69 x 70 inch shower curtain show Ant-Man's bathroom and him in the tub shrinking to ant size.
With this shower curtain you feel part of Ant-Man's adventures as he just became ant size in your bathroom.
No more boring plain shower curtain for you as Ant-Man is just the way to go for any Marvel fan.
The shower curtain has twelve enforced eyelets for your shower hooks (not included) so that you can use this fun curtain for a long time.
Come and get ready to shower with this Marvel Shrinking Ant-Man Shower Curtain.