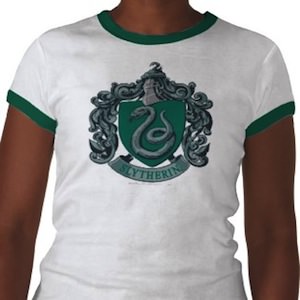 Slytherin is one of the four houses at Hogwarts and this house was founded by Salazar Slytherin.
In Slytherin you find mostly pure bloods. Famous members are Tom Riddle, Serverus Snape and Draco Malfoy.
And if you want to show of your connection with Slytherin then wearing a t-shirt like this that has the Slytherin crest on it.
A true Harry Potter fan is not afraid of Slytherin and would want to own a shirt like this.
You can get the Slytherin t-shirt is different styles and color for kids and adults.
Harry Potter fans now is the time to check out the Harry Potter Slytherin Crest T-Shirt.