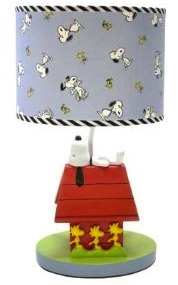 A nice lamp for the real Peanuts collector or a great decorating piece for a kids room.
This Snoopy lamp shows a base that looks like Snoopy's red dog house with Woodstock walking around it and Snoopy taking a nap on  the roof and then there is the lamp shade with Snoopy and Woodstock printed all over it.
You have to admit that this is a great looking piece that would look great in a nursery or any where that Snoopy fans live.
You have to have a better look at this Snoopy & Woodstock Lamp.
You may also like: