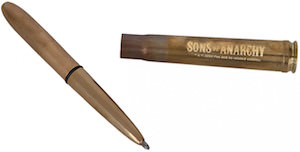 If you are looking for a special Sons Of Anarchy item then this space pen is what you want.
OK a space pen you say cool but what does it have to do with SAMCRO?
It's not the pen that makes it special it's the holder of the pen. The space pen comes in a .375 bullet casing making the whole thing look like a real bullet and we all know that the Sons Of Anarchy use a lot of those.
On the cartridge it says "Sons Of Anarchy" to and as it is a real bullet the colors may vary between pens.
Start writing you life's story with this Sons Of Anarchy Bullet Casing Space Pen.