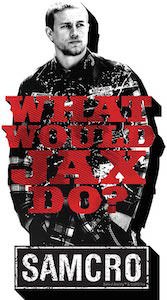 Are you looking for the perfect reminder of Sons Of Anarchy?
How about this magnet of Jax Teller?
The die cut magnet shows Jax with his hands in his pockets and below that a sign that says "SAMCRO" but there is more as on top of Jax it says "What Would Jax Do?" in red letters.
So now you can have this magnet on your fridge and every time you have a difficult decision to make you look at it and think about how Jackson Teller would solve that problem.
This Sons Of Anarchy magnet is 4 x 2 inch and would look great on almost any metal surface.
So I would not hesitate as Jax would have made the decision to buy this SAMCRO What Would Jax Do Magnet.