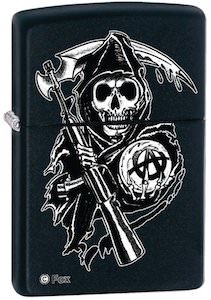 If you are still a smoker and you like Sons of Anarchy then we found you the perfect gift.
A matt black Zippo lighter with the Reaper logo from Sons of Anarchy on it.
Yes now you can have the quality of a Zippo lighter with the logo of you favorite biker club.
The SAMCRO Zippo measures 55 x 35 x 10 mm and will be a great way to light you smokes.
Needing a new lighter? Come get your Sons of Anarchy Reaper Logo Lighter.