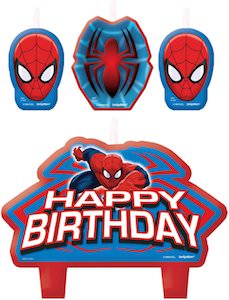 A Spider-Man birthday cake of course needs a special birthday candle.
But you came to the right spot as we found this 4 piece Spider-Man candle set.
There is one big sign that shows Spider-Man and the words "Happy Birthday" then there are two candles that show the face of Spider-Man and one candle is a red spider in it's web.
Just imagine how cool your cake will look with these Spider-Man candles.
Now simple candles when you can choose to make you cake look stunning for your Spider-Man themed party.
So lets not wait and get ready to bake that cake to make room for this Spider-Man Birthday Candle Set.