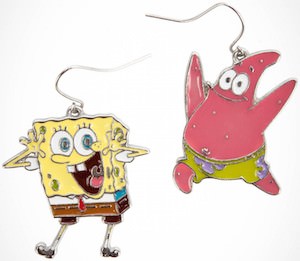 If Spongebob and Patrick are two of you favorite cartoon characters then you are gone love these dangly earrings.
This earrings set does not offer two the same earrings and that means that each of your ears will look different and fun.
One earring is SpongeBob Squarepants and his is making funny faces and the other earrings is Patrick Star and he seems to be rust running around having fun.
Just imagine wearing these fun earrings and how much brighter your day will be every time you look in the mirror and see those funny characters just dangling around.
Get some special jewelry and let it be these SpongeBob And Patrick Earring Set.