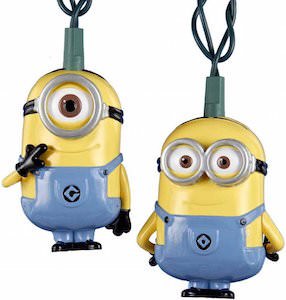 Minions are fun and would be a great addition to your life.
And now you can have 10 Minions in you home in the shape as a string light. You can decorate the Christmas tree with Despicable Me lights or use them just to decorate the kids room or even the outside tree.
This set has 10 minion lights 5 shaped like Carl and 5 shaped like Minion Dave.
And these fun Minion lights even come with replacement bulbs so that they can last a long time.
Kids and adults will love these fun lights and they are just perfect for so many occasions. Don't wait come get your Despicable Me Minion String Lights.