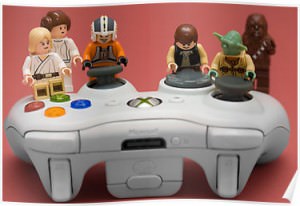 "Use the "A" button. Luke."
Yoda is desperately trying to teach his wisdom of video games to Luke, it's looks like it is harder than teaching him the Jedi tricks.
This is a classic poster that every Star Wars fan will love, this Star Wars poster features six of the cool characters Luke, yoda, Princess Leia, Chewbacca, Han Solo and  Rebel Pilot in mini LEGO figures all trying to team together and play this Xbox controller.
This Star Wars poster is high quality printed on durable 180GSM matte stock and comes with a 5mm white border, the poster measures 23.2″ x 15.5″.
Get your Star Wars LEGO Characters Poster.