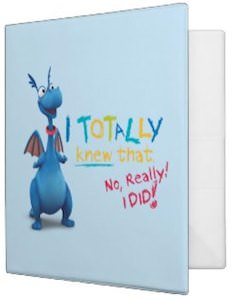 Stuffy may not be the smartest stuff animal you can which for but at least he is eager.
This Doc McStuffins binder is great for school and even at home.
The Disney binder is light blue with a dark blue spine and on the light blue you can see Stuffy the blue dragon and besides him the text "I totally knew that , No, Really! I DID!". And that text seems to be written in crayons.
A binder like this is great for school and will be funny and great as has Stuffy on it and it's made by Avery.
And you can get this Doc McStuffins binder in 3 different sizes and two different ring types to make it fit perfectly with you needs.
Get ready for school with this brand new Doc McStuffins – Stuffy I Totally Knew That Binder.