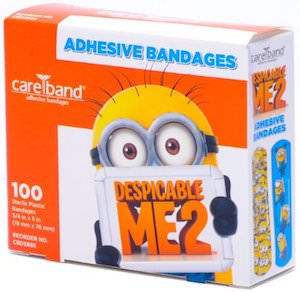 Kids are gone have fake boo boos because now they can have Minion bandages on them.
This box of 100 adhesive bandages is all about Despicable Me you will find assorted bandages in here all with Minions on them and kids you and old will love that.
And these Despicable Me bandages are latex free and individually wrapped.
Just imagine having a cut or bruise with a Minion bandage on it that would be so cool that even I am thinking about faking a boo boo.
And as this box has 100 adhesive bandages in them you can just make everyone happy even the neighbours kids may come to your house when they hurt themselves.
Do not wait any longer just come and order your Despicable Me Minion Adhesive Bandages.