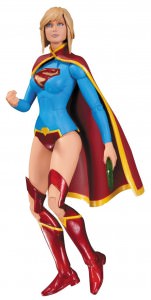 The New 52: Supergirl another classic comic book character and story from DC Comics, here is a great piece of memorabilia to Add to your collection.
This action figure of DC Comics Supergirl has all of the details you see on the awesome superhero, high red and gold  boots, red and gold cape and a light blue long sleeve shirt with the red and gold Supergirl logo of "S".
A limited edition action figure that stands 6.44 inches tall and has many different points of articulation, this is perfect for the serious collector or the child who needs a Superhero to spring into action and play with.
Collect, play and enjoy the DC Comics Supergirl Action Figure.