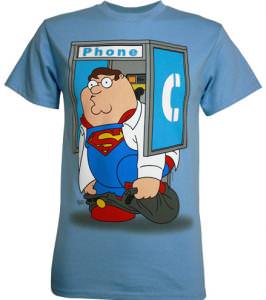 The classic television animated comedy series Family Guy has alot of memorable and funny moments making it one of the most popular ever.
This is a cool t-shirt that features Peter Griffin in a phone booth changing from his version of Clak Kent to Superman, I guess the only thing different is the phone booth doesn't exactly fit him like the DC Comics superhero Superman.
Made from 100% cotton this t-shirt will be very durable and comfy, pick up your Family Guy phone booth t-shirt today.
See more about the Family Guy Peter Phone Booth T-Shirt.