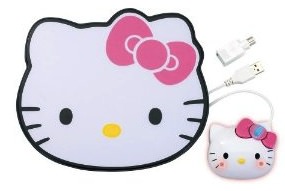 This is a cute Hello Kitty set of a computer mouse and mousepad.
I guess it is a bit strange to have a Hello Kitty mouse specially because Hello Kitty is a cat but why not. This mouse is optical and that means no ball in there that collects dust and stops working. You can connect it to a USB port or with the included ps2 connector to a ps2 port.
This Hello Kitty mouse of course works great on the included Hello Kitty mousepad witch is in the shape of Hello Kitty.
You just have to check out what other say about this Hello Kitty Mouse and Mousepad.