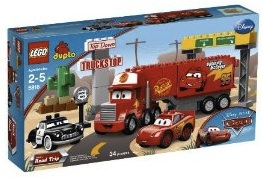 If you little once like Cars then this is the item to look at.
This LEGO DUPLO set lets you kids play for hours and hours and when they are sleeping you can even play with it.
The set contains of course Mack Hauler and Lightning McQueen but it also has Sheriff and all kinds of other thinks like roads signs.
And it is LEGO so that means you can build all kind of cool things out of it to.
Go have a closer look at the LEGO DUPLO Cars Mack's Road Trip.