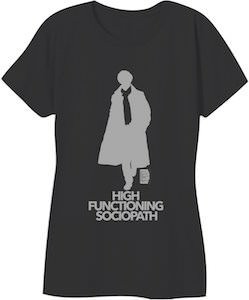 Sherlock Holmes maybe an amazing detective but he is a little bit weird to say the least.
If you are a fan of Sherlock then this t-shirt could be perfect for you.
The black women's t-shirt shows a grey silhouette of Sherlock and below him the text "High Functioning Sociopath" just like we like him. And yes this could be something Watson said.
This Sherlock Holmes t-shirt is available in women's junior fit sizes Small – 2XL and it is an officially licensed product.
So if you want sociopath on your t-shirt then this could be the one. Come take a closer look at this Sherlock High Functioning Sociopath T-Shirt.