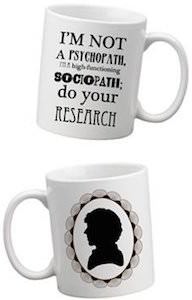 Fans of Sherlock Holmes know that he is a little bit strange but that he is no a psychopath.
This Sherlock mug explains this once and for all.
This ceramic white mug can hold up to 11 oz. of your favorite drinks. And on the outside you can find a silhouette of Sherlock's head on one side and the text "I'm not a psychopath, I'm a high functioning sociopath; do you research".
So now it's out in a way Sherlock say it himself no psychopath just a high functioning sociopath.
Now you can enjoy your morning coffee, afternoon tea and maybe even something stronger from this Sherlock Holmes Mug.