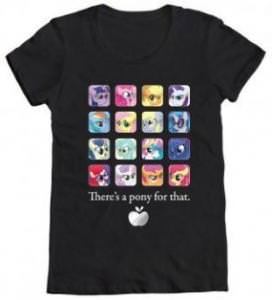 All the My Little Pony characters do have unique purposes and just like an app for your phone, you name it and there's a pony for that.
This is a really cool t-shirt that features many of your favorite My Little Pony characters like Starsong, Twilight Sparkle, Pinkie Pie, Applejack, Fluttershy, Rarity, Rainbow Dash, Sweetie Belle and many many more all looking like an APP icon aswell as the saying "There's a pony for that.".
Made from 100% cotton to give you duarability and comfort, available in sizes Small to X-Large.
Get the My Little Pony There's A Pony For That T-Shirt.