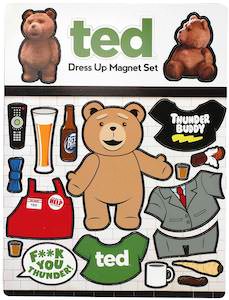 If you like Ted the talking teddy bear from the movie Ted then you are gone love this magnet set.
This set has magnets of Ted and what he would do and wear.
You can dress up the plain Ted with things like his apron from the grocery store or a suite and of course there are beer and the TV remote to.
Now you have something to play with on the fridge while you friends are cooking for you.
A magnet set like this will make any one play and you know Ted does not like thunder so let him say "F**K you Thunder!" because there is a magnet for that to.
Come and have a better look at this Ted Dress Up Magnet Set.