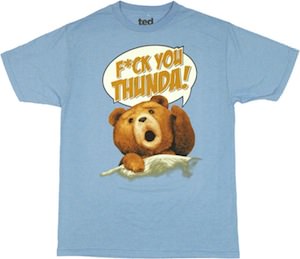 John Bennet and his teddy bear friend Ted are afraid of thunder and they even have a thunder song.
This light blue t-shirt shows Ted lying under the sheets saying "F*ck you Thunda!" as he is not happy that again it is thundering outside.
This crazy bear loves to hang out with you on your t-shirt and he promises to behave while he is with you.
You can get this Ted t-shirt in sizes Small – 2x-Large.
Most peoples teddy bears don't come alive so we should cherish this amazing bear and wear the Ted t-shirt.
So come and get your own Ted F*ck You Thunda T-Shirt.