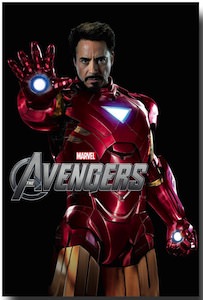 Superhero fans who want something special should look at this Avengers poster.
This poster comes in a range of sizes from small 4 x6 inch all the way up to 40 x 50 inch. So find the spot and choose the size that works for you.
On this Marvel Avengers poster you see a big standing Iron man in the background and a flying Iron Man in the front and in between there are the others there is the Hulk, Black Widow, Thor, Hawkeye and Captain America. And also on this poster you can find the big Avengers logo.
As I said before this is the poster you need so come check out The Avengers Iron Man Poster.