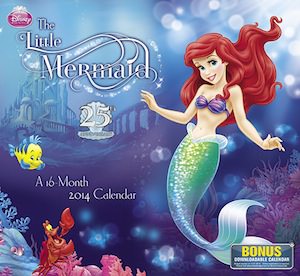 How much fun would it be to have a new picture of The Little Mermaid every month of the year?
It sure would be fun and now you can have exactly that with this 2014 The Little Mermaid Calendar.
This wall calendar is a 16 month calendar and that means that it already start in September 2013 giving you 4 months of extra Ariel pictures. And this The Little Mermaid calendar is not just a paper wall calendar no it also has a downloadable version for the computer and other cool extra's like wall papers and widgets.
This 2014 wall calendar of Ariel of course has a picture of her every month and often her friend Flounder and Sebastian will stop by to.
Kids will love this calendar and it is a great way to show them how the calendar works.
Come and get your copy of this Dinsey The Little Mermaid 2014 Wall Calendar.
You may also like: