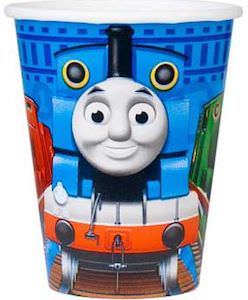 Are you gone have a Thomas the train themed birthday party?
If you are then you of course want some fun Thomas & Friends party supplies. And we found you these fun paper cups that shows Thomas and his friends on the side.
Big trains can be found all over these cups and kids who like trains will love these party cups.
These Thomas the train cups come in a pack of 8 and are about 3.5 inch tall and hold up to 9 oz. of drinks.
Even if you don't go for all the Thomas party supplies these cups are a great piece as they stand tall and will be seen from a far.
Lets plan this party and lets start with these Thomas & Friends Paper Party Cups.