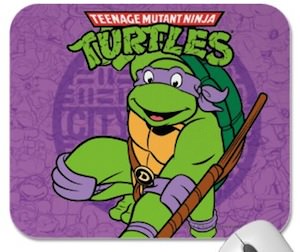 Change your boring mousepad and replace it with one with a nice animal on it.
OK you don't like cute animals but that is no problem because you can get one with a turtle.
And not just any turtle no a ninja turtle.
This mousepad shows one of the Teenage Mutant Ninja Turtles, it is Donatello.
A purple mousepad with in the background a sewer cover and in front of that Donatellon doing an action pose. Of course this mousepad also shows the Teenage Mutant Ninja Turtles logo.
Replacing your mousepad with just any pad is not smart you want to get a good mousepad that stays in place while using it and that is why this TMNT mousepad is great. The noslip back keeps the mousepad in place while you are using it.
Time to ad some TMNT to your collection, come get this TMNT Donatello Mousepad.