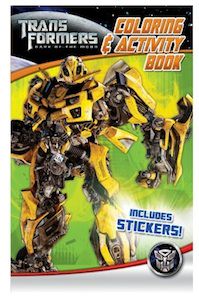 Does your kid loves Transformers or are you looking for the perfect party favor for a boys birthday party?
Look no further as this Transformers Coloring and Activity book is the solution.
This coloring book has 144 pages of Tranfsormers fun with fun coloring and activities. And this coloringbook comes with crayons and includes stickers so the kids can start right away without having to hunt down other supplies.
The kids are gone love this Transformers coloring and activity book and it start when they see the big Bumblebee Transformer on the front.
Get ready to keep the kids busy with this Transformers Coloring And Activity Book.