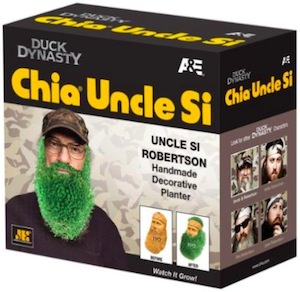 Always wanted a beard like the guys from Duck Dynasty?
Now you can have one but a green one made from Chia.
This is a Uncle Si Robertson Chia Pet and that means that you can grow a nice green beard on this Uncle Si.
Duck Dynasty fans will love it!
It's easy just soak Uncle Si in water then spread the seeds on his beard and watch it grow.
And you can eat his beard to as Chia is edible.
It will be so fun to see the beard on Si grow and you are kinda wishing he could talk like the Duck Dynasty star to.
Now is the time to get your own Duck Dynasty Duck Uncle Si Chia Pet.