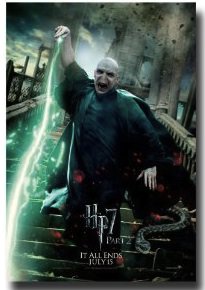 Here we finally have a real battle agains evil the battle against Lord Voldemort.
This is a teaser poster for the last Harry Potter movie the movie called Harry Potter and the Deathly Hallows part 2.
On this poster we just see Voldemort in battle ok besides him you find his snake but that is all the creatures you find on this poster. So you do not know who he is battling against.
That makes this poster fun because now you can have two battle poster together. You can for instance combine it with this Harry Potter Battle Poster on witch we only see Harry.
The poster is 11 x 17 inches and that makes it the perfect size to combine it with any other Harry Potter poster.
Have one last look at this Lord Voldemort Poster.