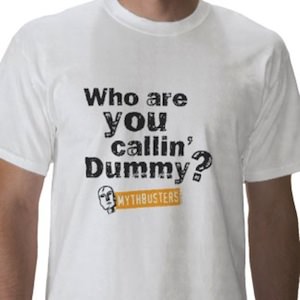 One of the classic Mythbusters vicitims is Buster he gets used to do all the dangerous things.
And specially to thank him for all his hard work the Discovery channel people made this t-shirt.
Let's start with the back. On the back of this t-shirt there is a small Discovery channel logo.
And then the front on the front it says "Who are you callin' Dummy?" and it has a picture of Busters head and the Mythbusters logo.
If you don't like white or the style of this shirt then you are in luck. This t-shirt comes in different styles and colors.
So if you want to thank Buster for all his hard work, you should buy this Mythbusters Who are you Callin' Dummy? T-Shirt.