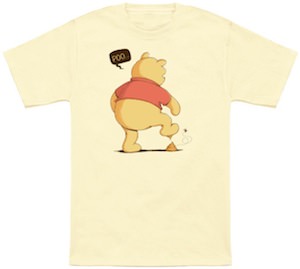 When you name is Winnie the Pooh then of course you can expect to step in poop more then others.
And this yellow t-shirt shows a picture of Winnie the Pooh when he just stepped in some poo.
There is even a little thought bubble that says "poo" and besides that there is a little fly coming of the fresh poop so this time no bee's for Winnie.
This funny Winnie the Pooh t-shirt comes in a women's and men's version in a wide selection of sizes all made from 100% preshrunk cotton.
Poor Pooh but you have to admit it is funny.
Come and tell the world all about it by simply wearing this Winnie The Pooh Bad Day T-Shirt.