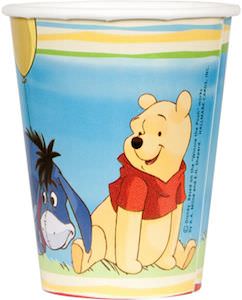 Are you planning a Winnie The Pooh themed party? If so you will need these Pooh and friends party cups to drink from.
These party cups feature's Pooh Bear, Tigger, Piglet and Eeyore carrying a balloon around his neck happily going to a party of there own.
They come in a pack of 8 and will hold 9 ounces of your most favourite party beverage.
When the kids drink from these Pooh paper cups they will pretend to go on adventures like Pooh and his friends go on.
Your kids will have lots of fun drinking from these Winnie The Pooh And Friends Party Cups.