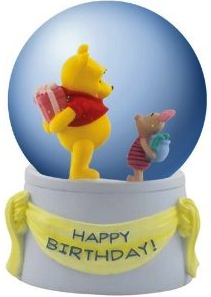 This musical snow globe is perfect for a birthday.
It shows Winnie the Pooh and Piglet both with a present hiding behind their backs and it has a Happy Birthday banner on it to.
And that is not all because this Winnie the Pooh snow globe plays happy birthday.
So if you know a snow globe collector with a birthday coming up this would be the perfect gift.
Come have a closer look at this Winnie The Pooh And Piglet Musical Birthday Snow Globe.