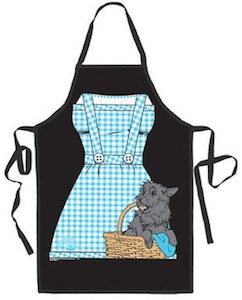 Now when you are cooking you can be come Dorothy from the Wizard of Oz.
This apron is black and shows the dress of Dorothy printed on it and a basket with Toto her dog in it.
And then when you wear this apron you become Dorothy.
And an apron is always handy when doing task that could dirty your clothes like cooking, cleaning, painting and so on.
If you are a true friend of Dorothy then get yourself this The Wizard Of Oz Dorothy Apron.