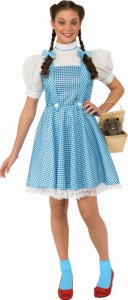 There's no place like home, There's no place like home.
Featured here is a classic movie character Dorothy from The Wizard of Oz, find the light blue short dress with white polka dots all over in a uniform pattern and two matching hair bows for your pig tails.
This Dorothy costume is available in one size that fits most adult females, it is perfect for many dress up occasions like halloween and can easily be completed with a pair of red shoes.
Have some fun this halloween or for a costume party with the Wizard Of Oz Dorothy Adult Womens Costume.