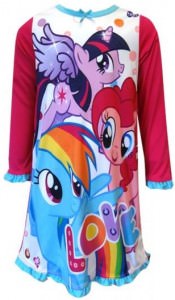 Group together the elements of loyalty, magic and laughter and add a sleepy young girl and what do you have?
You have a My Little Pony party on a nightgown.
This adorable My Little Pony nightgown features the images of Rainbow Dash, Twilight Sparkle and Pinkie Pie from My Little Pony Friendship is Magic on the front, all on a white background that also has many Pony cutie marks on it.
The long sleeves on this nightgown are dark pink the cuffs and hem have light blue ruffles and the word LOVE is written in balloon letters at the bottom.
The pajamas are licenced by Hasbro and comes in girls sizes 4, 6 and 8.
Help your child learn about friendship with this My Little Pony Long-sleeve Nightgown.