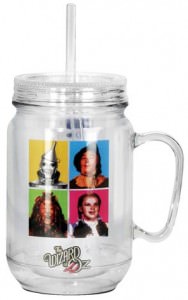 Are you a fan of classic movies? This distinctive mug will remind you of one of your all-time favourites The Wizard of Oz.
This 16 oz. clear glass mason jar will hold plenty of cold liquid while you relax. The lid screws on securely, has a straw for easy sipping, and protects your drink from bugs when you are outside. Hand wash only.
The mug features color photos of the four lead characters of the Wizard of Oz, Dorothy, the Tin Man, the Scarecrow and the Cowardly Lion. Printed below is "The Wizard of Oz" logo.
Sweep into the magical Land of Oz with this Wizard of Oz Mug.