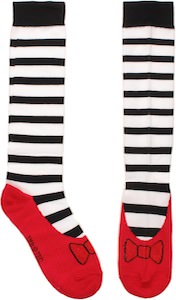 We all know that Dorothy from the Wizard of Oz wore some ruby red slippers and now you can be just like Dorothy by simply wearing socks.
These Wizard of Oz socks have black and white stripes and around the foot there is a red slipper so by wearing socks you are like Dorothy  with her ruby red slippers.
These socks are one size fits mosts and to see the exact measure just click on the socks above.
So if you like to be like Dorothy then you really need this The Wizard of Oz Dorothy Socks.