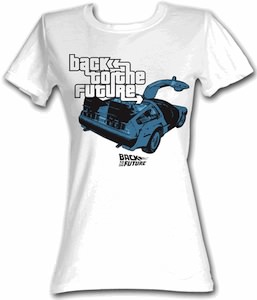 Women who like Back to the Future will love this t-shirt.
The t-shirt is white and has the timetraveling DeLorean car printed on it and the words Back to the future and the back to the future logo.
And this Back to the Future t-shirt comes in a junior fit in a wide selection of sizes to make it fit just right.
If you are that woman the like to watch Michael J. Fox movies the check out this Women's Back To The Future T-Shirt.