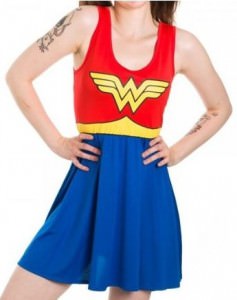 There is nothing cuter than a simple A Line dress, comfortable and stylish, now add one of DC Comics awesome superheroes like Wonder Woman and this is an amazing dress.
Featured on this dress is a large Wonder Woman logo on the front in yellow, the top torso is red and the skirt portion is blue and are seperated by a yellow print of a belt.
You can get this officially licensed DC Comics Wonder Woman dress in a wide variety of sizes that range from Small to XL, this dress is perfect to dress up, wear as casual or complete the superhero costume with it.
Show off in the DC Comics Wonder Woman A Line Dress.