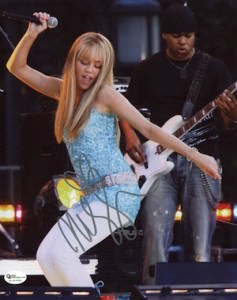 This 8×10″ photo shows Hannah Montana while doing a concert.
And that is not all you see on this picture. This photo has an autograph on it.
This Hannah Montana / Miley Cyrus autographed photo and comes with a certificate of authenticity so you know it is real.
If you are such a big Hannah Montana or Miley Cyrus fan then this is an item that can't be missing in your collection. This item is so rare that you are lucky if you get one.
Have a better look at this Hannah Montana Autographed Photo.