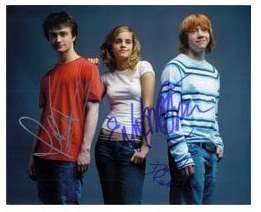 OK this must be a very special item for a very special Harry Potter fan.
Let me begin by telling you this item is not cheap.
But you will get a real special item.
This is an autographed photo with not just one but 3 people.
On the photo you find Daniel Radcliffe, Emma Watson, Rupert Grint who also signed it.
And this is the closest you ever get to a picture with Harry Potter Hermione Granger and Ron Weasley that is signed by the 3 actors who play them.
The picture is 8×10 and comes with a Certificate of Authenticity so you will know for sure that it is real.
If you are thinking about getting yourself a real special Harry Potter present for your collection  then you just have to check out this Autographed Photo with Ron, Hermione and Harry Potter.