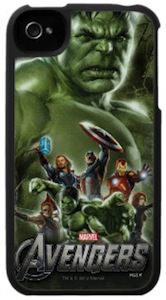 This iPhone case shows a lot of green muscle from the Hulk.
But besides the Hulk there is more. You can find more Marvel superhero's like Hawkeye, Thor, Captain America, Iron Man and Black Widow. So yes you are right this is an Avengers iPhone case it even has the Avengers logo on it.
This case made by Speck will protect your iPhone from harm and this case is made for the iPhone 4 and iPhone 4S and will keep all the ports and buttons availible for your use.
Come check out the Hulk and other Avengers on this Marvel The Avengers Hulk iPhone Case.