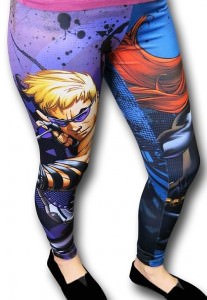 On theses Avengers leggings you will find one of the legs dedicated to Hawkeye, a large image of him pulling back his bow and arrow ready to strike with a comic book worthy background.
Using the same fun background on the other leg you will find a great image of Black Widow with her red hair flowing and in her tight, sleek and sexy latex suit.
Available in women's sizes that range from Small to 2XL and other than super cute and very cool looking these Marvel Avengers leggings are made from the perfect blend of materials 95% polyester and 5% spandex to give you comfort, durability and just the right amount of stretch to work on your own superhero moves.
Get into these slick looking Avengers Hawkeye And Black Widow Leggings.