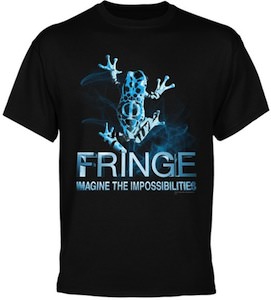 This black Frige t-shirt shows the Frog glyph with the Phi symbol on it's back and below that the text "FRINGE imagine the impossibilities".
And this amazing looking Fringe t-shirt comes in wide range of sizes from small to 5X.
The whole look of this t-shirt makes it special the strange blue white mist surrounding the frong and the text makes it almost like it just fell out of your TV.
If you are a true Fringe fan then you should check out this Fringe Imaginge The Impossibilities Frog T-Shirt.