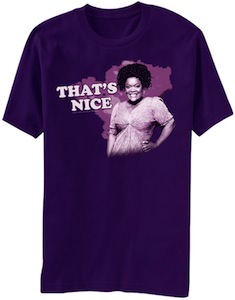 The study group from the TV series Community would not be the same without Shirley.
And to make us remember Shirley they made this nice purple t-shirt.
On this Community T-Shirt you see a picture of Shirley and her default answer to almost anything "That's Nice".
And because this t-shirt is so nice they make it in a wide range of sizes so that it fit you and even Shirley if she wanted to wear one.
Come and have a closer look at this Community Shirley Thats Nice T-Shirt.