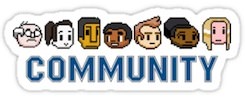 Community fans will love this fun sticker.
The sticker is die cut so now wastefull straight edges just plain cut so that you see more of the thing you put your sticker on.
And this sticker shows the Community logo with ontop of that 8 bits character icons of all the members of the study group.
You can see Pierce, Annie, Abed, Troy, Shirley, Britta and of course jeff Winger.
This Community sticker is great for on almost anything like your laptop, fridge, books, mirror, and even you car.
Yes this sticker will survive the outdoors to and when (if ever) you get sick of this sticker then it is easy to remove it to.
Now is the time to come have a better look at this amazing Community Sticker.