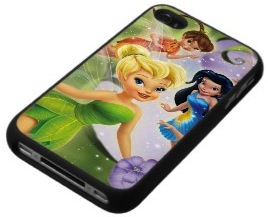 How much fun would it be to get your iPhone protected by Disney Fairies?
I am sure you gone like to have a case for you iPhone 4S and 4 that looks like the one in the picture and guess what you can.
This iPhone case is made by Speck a leading manufacturer for quality mobile phone cases and this time they decorated it with a picture of Tinker Bell with her fairy friends Silvermist and Fawn. All three fairies are flying around keeping an eye on your iPhone.
Lets make sure you iPhone 4S or iPhone 4 is protected and fun so come and order your Tinker Bell And Friends iPhone 4S Case.