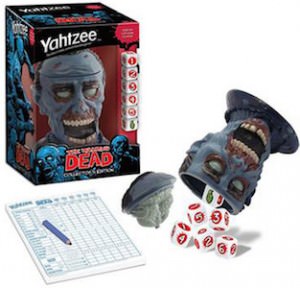 The people behind The Walking Dead finally found a good use of all those walkers that just try to eat you.
Just kill them and then use their head for this Yahtzee game. Of course they are not real zombie heads but they sure do look freaky.
The game of Yahtzee is the same as always but it has some pretty dice and a dice cup that is a walkers head and when you lift the lid you can even see some brain stuck on it.
Fans of The Walking Dead now finally have a fun board game they can play on that rainy day before the world changes.
Come take a better look at this The Walking Dead Walkers Head Yahtzee.